Solution I
Jaw crusher +Cone crusher
The production process of "jaw crusher & cone crusher" can not only ensure the granularity of aggregate, but also reduce the investment and the consumption of wear parts. The flow of the granite crushing production line is roughly as follows: dump truck ---> vibrating feeder ---> jaw crusher (primary crush) ---> cone crusher(secondary crush) ---> vibrating screen--->final products. The production process of "jaw crusher & cone crusher" has the characteristics of reliable performance, reasonable design, convenient operation, good product granularity, high working efficiency, etc.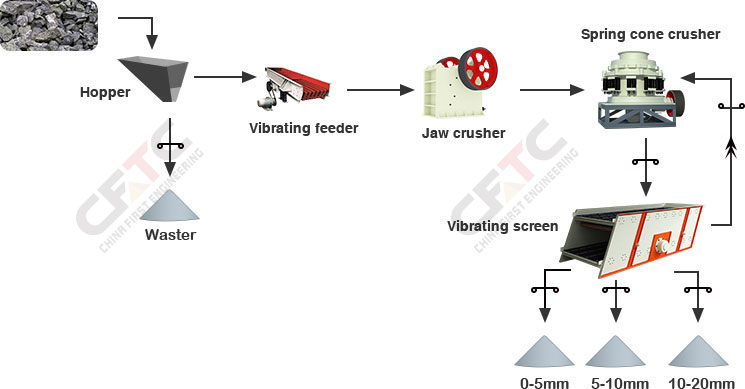 Solution II
Jaw crusher + Fine jaw crusher
Granite can be crushed by two-stage crushing process of jaw crushers , when the customer has low requirements for the final product. The granite materials are put into vibrating feeder by dumper, then the materials are evenly fed into the big jaw crusher by the vibrating feeder for primary crush. And then the crushed coarse materials are transported to the small jaw crusher by the belt conveyor for secondary crush. Finally, the materials will be sieved by the circular vibrating screen, and the oversize materials return to the small jaw crusher for re-crushing while the final product will be conveyed to the product area by belt conveyor. The configuration of two crushers have the lowest investment, the simplest maintenance and the most economical production cost in all programs. However, the disadvantage of this configuration is that its finished products have relatively poor shape and higer proportion of needle-like materials.