Introduction
CFTC Double roller crusher is made of high manganese steel, which can stand up to heat treatment. Roll crusher is also called double roll crusher, double teeth roll crusher etc. The surface of roller crusher are made of high manganese steel, which can stand up to heat treatment. Double roller crusher is suitable for rough and intermediate crushing of brittle materials in such industries as cement, chemical industry, electric power, mine, building materials and metallurgy. The grain size of the input material is large, the particle size of the output product can be controlled.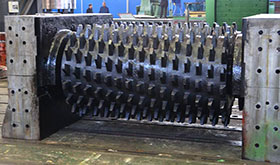 Teeth roller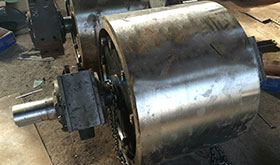 Smooth roller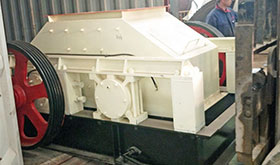 Delivery

Double Roller Crusher can be used for secondary anf fine crushing of medium hardness and soft hardness ores, such as limestone, feldspar, glass, coal etc.
Working Principle
The particles are drawn into the gap between the rollers by their rotating motion and a friction angle formed between the rollers and the particle, called the nip angle. The two rollers force the particle between their rotating surface into the ever smaller gap area, and it fractures from the compressive forces presented by the rotating rollers.
Parameter
Please strictly refer to the product technical parameters for work. specifications are subject to change without notice. Please refer to the actual data of machine.
Model
Max. Feeding size (mm)
Capacity (t/h)
2PG-400*250
25
5-10
2PG-610*400
40
13-35
2PG-750*500
15-40
2PG-900*500
20-50
2PGC450*500
300
20-45
2PGC600*750
400
30-180
2PGC600*900
40-100
2PGC600*1200
50-120
2PGC800*1000
80-180
2PGC800*1200
100-220
2PGC900*900
500
80-180
Note:The capacity may vary with different materials and feeding sizes. Technical parameters are subject to change without notice.
CFTC is one of the most reliable Double Roller Crusher manufacturers in China with many years of experience in Double Roller Crusher production . We can supply a complete set of Stone Crusher with highest quality. Our products have been exported to Kenya ,Ethiopia, Zambia, Tanzania, Saudi Arabia,Sri Lanka, Egypt ,Pakistan ,Vietnam ,Indonesia, the Philippines, SouthAfrica and other countries . If you have this need or want to get the Double Roller Crusher price , please contact us or send email to [email protected]